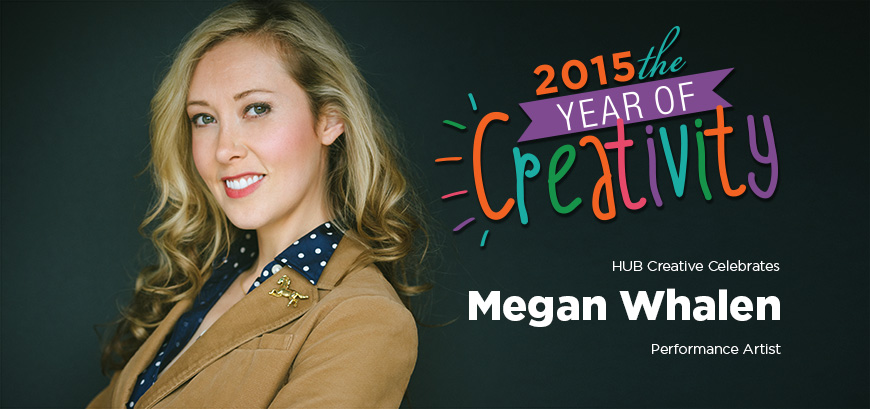 HUB Creative Celebrates – Megan Whalen

"Performing makes me the most happy, but it also gives the greatest heartache.
"I aspire for perfection and never reach it because I believe it's unattainable for any artist. You must keep growing and perfecting. All the time filled with great insecurity. I think most artists feel the same.
"In my career, I've had great professional successes and huge professional failures.  In my career, I've experienced the joy of flying high and the pain of crashing down with self doubt. Commercial success isn't as personally sustaining as artistic success.
"Since coming back to Chatham-Kent, I've been the most creative I've ever been. I'm a much stronger, complete performer. Here, the environment is so much more creative and open.
"I've learned you can't put other people's opinions first when being creative. The aim is to keep moving forward, keep breathing, stay relaxed and be an organic artist."
Megan grew up performing in her home town of Chatham.  She studied voice at the University of Western Ontario and then moved to Toronto to perform professionally.  Megan has played lead rolls in such musicals as: Grease ( Bluma Appel) A Funny Thing Happened on the Way to the Forum (Hart House) and Beauty and the Beast (Fallen Rock). She has also performed in the SummerWorks Festival playing Sheila in the new musical BLOOD TIES ( featured on Orphan Black). 
She is probably best know for her outstanding performance in the Mirvish Productions' THE SOUND OF MUSIC at the Princess of Whales Theatre in Toronto. Megan is an accomplished concert soprano and has performed at the TEDx Chatham-Kent event, has sang with the Barenaked Ladies at CBC 's SOUNDS OF THE SEASONS, and headlined BROADWAY BEAUTIES, a concert with Orchestra London under the direction of maestro Francesco Milioto.  Her film work includes the action move CONCRETE which has been released in Asia and in the USA.  She also stars in the upcoming webseries, BUCK NUTTLE: LOOKIN FER LUV and is in rehearsal for her solo show which she will be touring come fall. 
Megan is artistic director of OPPOSITETOWN PRODUCTIONS, which offers performance opportunities and workshops to the community of Chatham-Kent.
2015 marks 50 years of creativity for HUB Creative Group. As we celebrate this amazing milestone, we want to spend 2015 honouring and acknowledging our fellow creatives. And not just designers and writers like us – but creative spirits who express themselves through art, food, music and more.