Episode 3 of the Marketing Foundations Podcast
Non-Profit Shouldn't Be Non-Fun
In our third podcast we talk with Rory Green, Associate Director of Gift and Estate Planning at Simon Fraser University.
Links to people/companies/agencies we mentioned on the podcast:
Fundraiser Girl on Tumblr - fundraisergrrl.tumblr.com
Website - roryjmgreen.com
Rory Green on Twitter - twitter.com/RoryJMGreen
Simon Frasier University - give.sfu.ca
Blackbaud - blackbaud.ca
Buffer - buffer.com and on Twitter  - twitter.com/buffer
Followerwonk - moz.com/followerwonk
Canva - canva.com
Sprout Social - sproutsocial.com
Agents of Good - agentsofgood.org, twitter.com/johnlepp, twitter.com/agentjenlove
Vancouver Orphan Kitten Rescue Association - orphankittenrescue.com
Charity Water - charitywater.org
Innocence Project - innocenceproject.org, instagram.com/innocenceproject
Key Takeaways:
3:45 - Non-Profit Shouldn't Be Non-Fun
4:45 - Highlights from fundraisergrrl.tumblr.com and e-book sign-up
7:00 - Donor recognition through better data
8:00 - Software and tools
9:00 - Talking & listening with social media
10:45 - Appreciate the people who have already given to you, connect them to the outcomes, surprise and delight your donors
12:31 - What if you could maximize the relationship and value of the donor?
15:00 - New shiny things
21:55 - Use social media to tell compelling and interesting stories of the real people that you've helped and give credit to the donors who have made that good work possible
23:25 - Donors don't give to your charity, they give through you to the people that you help
26:35 - identify and write to your typical donor << I LOVE THIS IDEA!!
28:25 - reach out personally to donors, communication should be 2-way
29:40 - your next big donor is already in your database, value and appreciate the donors you already have
30:40 - Live video is a gamechanger
32: 10 - Tools we can't live without - Buffer, Followerwonk, Canva
34:28 - Who does Rory want us to interview next?
35:30 - Who else is going great work in the fundraising sector? VOKRA, Innocence Project, Charity Water
Who would you like us to interview next? Drop us a line at john@hubcreativegroup.com and we'll see if we can get them on a future episode.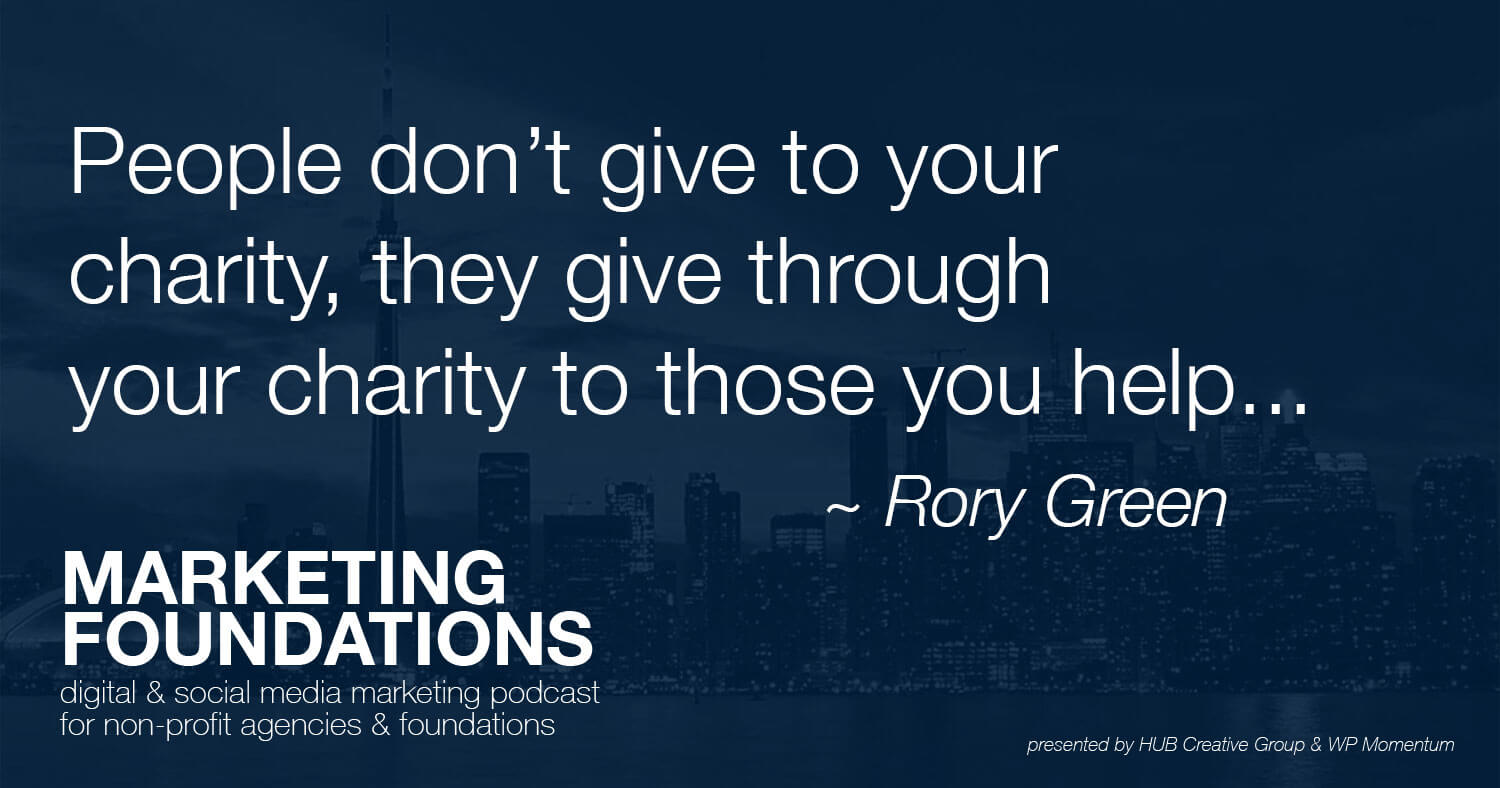 Marketing Foundations is our digital and social media marketing podcast for non-profit agencies and foundations. In this podcast we interview executive directors, marketers, social media professionals and fundraisers - in order to find out what works for them online and in social media.MARKETING FOUNDATIONS is brought to you by HUB Creative Group and WP Momentum.