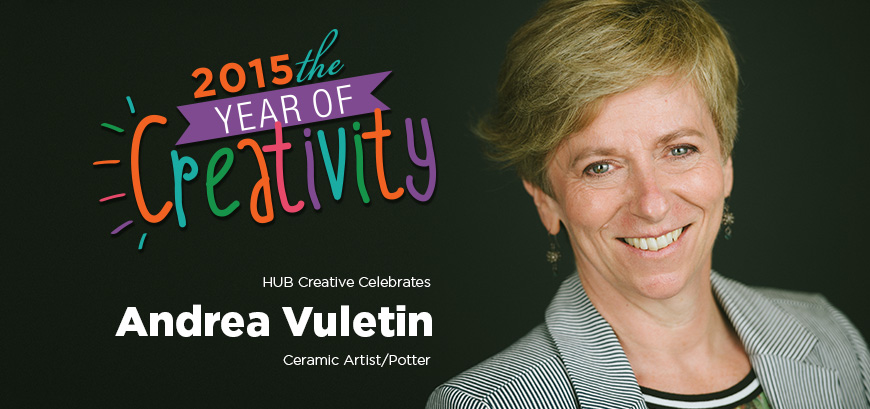 HUB Creative Celebrates – Andrea Vuletin

"I was born a creative person, but I was lucky that creativity was also nurtured in my home as I grew up. My mother was a potter. To keep us entertained, because we did not watch t.v., she would keep paint, paper, fabric, a ball of clay or even pinecones and seeds in the corner and encourage us to make something with them. What we created was valued. That was a great lesson.
"I think it's very important to keep working on your craft until you find your own voice. When you have an original voice, people will recognize it.
"I take my creative cues from nature. To me a perfect day is begun with tea in my garden. I look around and see all the potential that is there. I'm drawn by colour and line and make notes in my sketchbook of what I see that intrigues me. It keeps my brain open and flowing.
"When I look at other artists' work, I'm most intrigued by what I haven't seen before. I am always impressed with techniques that I have not considered.
"Creativity is making something from anything. You don't have to start with the best materials, you just get started and then progress from there.
"As you get older you recognize successes very differently. You realize that you have had achievements all along, but don't see them until you look back. I have evolved as I've gotten older. My young self could not create what I create now. I see that and treasure it."
2015 marks 50 years of creativity for HUB Creative Group. As we celebrate this amazing milestone, we want to spend 2015 honouring and acknowledging our fellow creatives. And not just designers and writers like us – but creative spirits who express themselves through art, food, music and more.